Always Something happening at the Brick Oven!!
Stop in and try one of our drink specials or 24 Beers on tap!
Come see and try our expanding collection of top Bourbons and Whisky's
Beverage menu
We have a full bar complete with a wide selection of local craft beers, wine, and fine spirits. Below is our current beer list.
Featuring weekly seasonal Drafts!
LABATT BLUE LIGHT 4%

STELLA ARTOIS 5.2%
A classic Belgian lager, golden in color with exceptional clarity, full flavor and a clean crisp taste, with a spicy hop.
BIG DITCH HAYBURNER IPA 7%
A citrusy IPA, with primary notes of orange, melon, grapefruit, and a slightly earthy finish. It packs a firm bitterness but remains balanced by abundant hops.
FLYING BISON RUSTY CHAIN 5%
Our international award winning flagship. A Vienna lager brewed initially to promote and support GO Bike Buffalo, this is a flavorful yet approachable beer for craft and domestic drinkers alike.
YUENGLING 4.4%
An iconic American lager, famous for its rich amber color and medium-bodied flavor – with a roasted caramel malt for a subtle sweetness and a combination of cluster and cascade hops.
BUD LIGHT 4.2%
COORS LIGHT 4.2%
BLUE MOON 5.4%
A Belgian style wheat ale spiced with fresh coriander and orange peel for a uniquely complex taste and an uncommonly smooth finish.
SAM ADAMS OCTOBERFEST 5.3%
EBC BLUEBERRY WHEAT ALE
4.8%
A dry and fruity wheat beer with the perfect amount of mellow blueberry flavor.
PABST BLUE RIBBON 4.5%

SOUTHERN TIER IPA 7.3%
A copper-colored India Pale Ale with a vigorous hop profile, balanced malts and a medium body, with a bit of sweetness contrasting the lingering bitterness.
GUINNESS 4.2%

= LOCAL
MILLER LITE • MOLSON CANADIAN • ANGRY ORCHARD • MICHELOB ULTRA • BUDWEISER • COORS LIGHT • BUD LIGHT • LABATT BLUE • LABATT BLUE LIGHT • CORONA • CORONA PREMIER CORONA LIGHT • SAM ADAMS CHERRY WHEAT • WHITE CLAW BLACK CHERRY  • HIGH NOON: WATERMELON, PINEAPPLE
CABERNET • MERLOT • PINOT NOIR • PINOT GRIGIO • CHARDONNAY  • REISLING • WHITE ZINFANDEL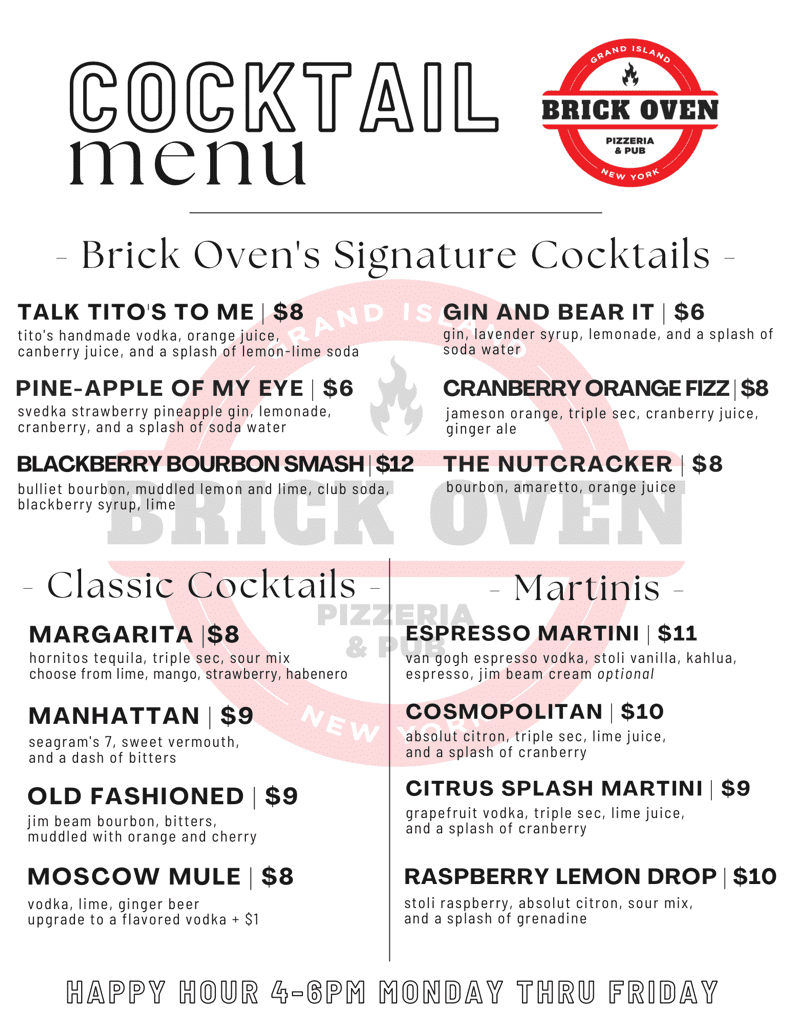 PROUDLY SERVING THE BEST PIZZA ON GRAND ISLAND
We have a large selection to choose from that will fit your party's needs. Pizzas, sandwiches, salads, appetizers and more!